Description
Are you still using disposable sticky mats?
It is time to think about the environment and being cost-effective at the same time.
We have two types of reusable and eco-friendly Clean Mats that will draw your immediate attention. The first one is Air Clean Mat, which cleans the bottom of the sole by sucking dust through two step filters. The second one is Water Clean Mat, which washes the bottom of the sole directly with water and moving brushes on the mat. These Mats are one of the most effective ways to remove dust and contaminants from the sole of the shoes, leaving less wastes and particles. Adopting these remarkable mats will also be a cost saving solution in the long term, even if the initial cost can be higher than sticking to the traditional disposal sticky mat.
Air Clean Mat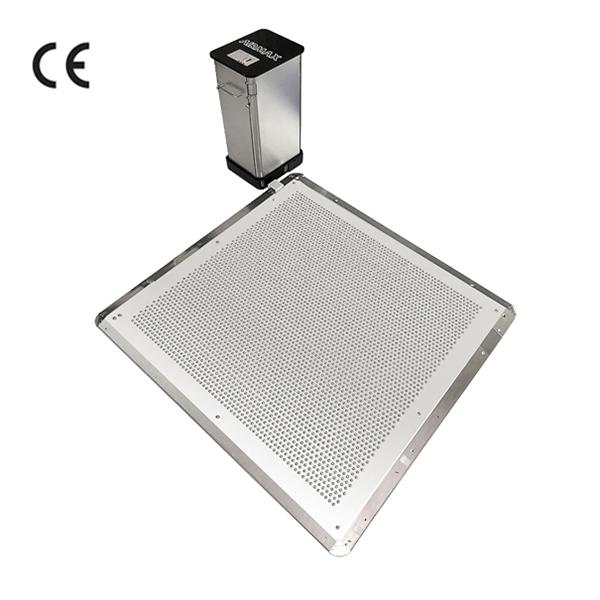 Features
Detecting sensor
Air refreshing function
Easy installation and maintenance
2 step filtration (antibacterial and HEPA filters)
Access Floor type (M58E-008)
Heavy traffic (trolley, carts, etc.) type is available
Air shower room type (M58E-009)
Customized sizes are available on request
| | | |
| --- | --- | --- |
| Item Code | Outer Size (mm) | Mat Size (mm) |
| M58E-001 | 20T × 600 × 1100 | 500 × 1000 |
| M58E-002 | 20T × 600 × 2100 | 500 × 2000 |
| M58E-003 | 20T × 700 × 800 | 600 × 700 |
| M58E-004 | 20T × 800 × 1100 | 700 × 1000 |
| M58E-005 | 20T × 800 × 2100 | 700 × 2000 |
| M58E-006 | 20T × 1100 × 1100 | 1000 × 1000 |
| M58E-007 | 20T × 1100 × 1500 | 1000 × 1400 |
| M58E-008 | 50T × 600 × 600 | 600 × 600 |
| M58E-009 | 150T × 100 × 1000 | 100 × 1000 |

Water Clean Mat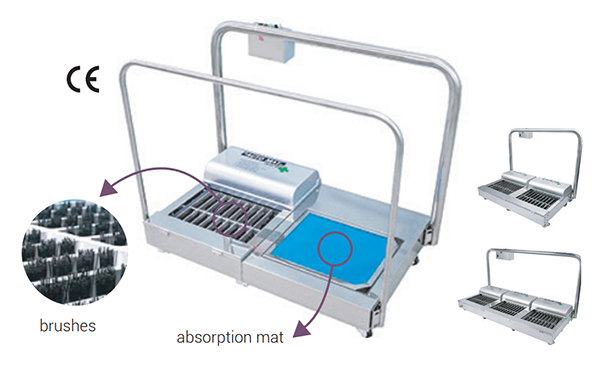 Features
Detecting sensor
Clean with water
Easy relocation with wheels
Special cleaner (diluent) for heavy dirts, oil, etc. (option)
Item Code
M57E-001
M57E-002
M57E-003
M57E-004
M57E-005
M57E-006
Size
(W x L) – mm
Outer Size
730 × 545
730 × 1150
780 ×1110
780 × 1750
780 × 1670
780 × 2270
Absorption Mat
415 × 495
415 × 550
415 × 550
Height (mm)
970
970
970
970
970
970
Weight (kg)
35
70
70
105
98
140
Input Power
AC220V, 50/60HZ
Power Consumption
40W
40W
80W
80W
120W
120W
Capacity – Washing Tank
10 L
10 L
20 L
20 L
30 L
30 L