Description
Features
No need Electric Power Source
No Battery
Compact and Handy
Stable Ion Balance & Quick Decay Time
Easy Operation and Maintenance
LED Indicator for high & Low Voltage
Air Flow Control Knob
ATEX and CE Certified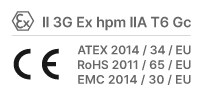 | | |
| --- | --- |
| Item Code | M39E-002 |
| Ion Mode | AC 14 Khz |
| Decay Time | 0.2 sec. (+/- 1,000V to 100V) |
| Ion Balance | ± 10V |
| Air Pressure | 3 ~ 6 Bar |
| Effective Distance | 10 ~ 50 cm |
| Weight | 200 g |
| Warranty | 1 year |
Can you imagine to neutralize the charged insulator with an Ionizer without electric power supply?
ESD programs should include a proper grounding method. Even though all personnel, worktables and floors are properly grounded, there are still some insulators in the manufacturing sites.
It is essential to neutralize insulators to maintain a low percentage of errors because insulators become easily charged when they come into contact with other materials even if those materials are grounded.
Charged insulators retain the charge for extended periods of time as they cannot provide a good pathway for static discharge, which can lead to a major cause of failure in sensitive devices.
Ionizers are one of the most common and effective equipment for eliminating charges on insulators. All corona-type Ionizers require an electric power source to function properly. Our Powerless ECO Ionizer, which is innovative and unique, is an exception. It does not require any electric power source but is operated by air pressure. The operation is just simple. Grip the Ionizer and trigger the handle, and then air will be distributed to the Ionizer, and the special generator mounted in the Ionizer will automatically be activated by high-pressure air, generating positive and negative ions.
Applications